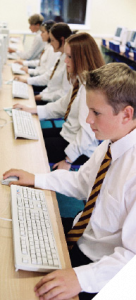 Student
ECOMAN was an experience that allowed me to expand my knowledge and skills in a real-life, business simulated environment. The staff were wonderful in guiding us to see our potential, and created a memorable adventure, where we learnt not only to run our own company, but to connect with others.
Student
ECOMAN was an amazing experience which helped broaden my understanding of running a business and the crucial decisions that need to be made.
Rochedale State High School
We have been in Ecoman for at least 14 years. We were one of the first schools to participate I have been told.  I have been involved since coming to Rochedale 9 years ago and it was at least 5 years old by then.  One of our links in the business department is obviously with the Ecoman program, which we LOVE being a part of each year.  It's a highlight for our students and they often tell us after graduating that it was one of their favourite school experiences.
Caroline, Somerville House
Dilsher, St Laurence's College
Emily, Somerville House
Harry, St Laurence's College
Michael, St Laurence's College
Ms Carter, Head of Business, St Laurence's College
Nikitha, Somerville House