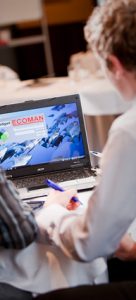 Throughout Queensland, QPEC informs and educates secondary school students about business and enterprise through its popular ECOMAN business simulation program.
ECOMAN provides students with the experience of running a company and understanding business, adding to their understanding of the importance of private enterprise in our prosperous democratic society.
Enterprise, business understanding, business initiative, competition, growth, community impact, ethical behaviour, economic contribution and local involvement are central to ECOMAN.
Students experience leadership, the power to persuade, the value of cooperative teamwork, the importance of trust and the ability to present.
Find out more about ECOMAN here.
PARTICIPATING SCHOOLS
Over the past 26 years thousands of students have benefited from the ECOMAN program. See what some of them and their teachers had to say about their experience here.
GETTING MY SCHOOL INVOLVED
If you would like your school to consider running the ECOMAN program we suggest speaking with your school principal, Head of Year or Guidance Officer. Either they, or you, should then email our QPEC Education Coordinators Debbie Perrett at  qpec.ecoman@gmail.com.
STUDENT RESOURCES