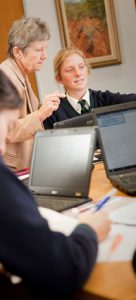 The ECOMAN concept was developed originally as a business simulation training program for employees of a major international Swiss-based business.
Recognised as having potential for the younger generation, ECOMAN was introduced initially to European high schools as a hands-on learning tool to familiarise students with the world of business.
The broad aims of ECOMAN are:
to make participants aware of the commercial realities of operating a business
to promote an understanding of business, and the contribution private enterprise makes to the community
to encourage school leavers to consider the private sector as a career choice.
QPEC has been conducting ECOMAN programs for students in central and southern Queensland since 1995 and the program has been growing steadily to meet increasing demand.
As ECOMAN has become increasingly known, community involvement has grown, as demonstrated by continuing and increasing support not only in Brisbane, but in regional centres including Cairns, Townsville, Ipswich, Redlands, the Gold Coast, Beaudesert, Kingaroy, Emerald, Gladstone and Bundaberg.
HOW IT WORKS
Each ECOMAN is run over three consecutive days. Approximately 20 senior secondary school students participate in each ECOMAN. Wherever possible they are held in the premises of sponsoring businesses, typically in central city high rise offices or the equivalent in provincial cities and towns, to add realism to the students' experience of business.
The students are formed into three or four competing companies with each student taking a position such as Managing Director, Chief Financial Officer, Production Manager, Human Resources Manager and Marketing Manager.
Under the guidance of experienced, QPEC-accredited facilitators, the students run their respective companies for a notional four years within the computer-based simulation. The students are effectively responsible for the growth and profitability of competing companies.
The facilitators encourage entrepreneurial initiatives as they present the students with a range of opportunities and challenges set against changing economic and other environments. The student managers must source supplies, manufacture, market, engage in industrial relations negotiations, deal with environmental issues and government regulation, fund their businesses, and cope with the consequences of their entrepreneurial initiatives as they seek to expand and improve their companies.
On the final day, the managers of each company present their annual results and company outlook to the "shareholders" – interested business people as well as their student competitors – at the company's annual general meeting.
The ECOMAN program is constantly expanding and changing as schools and sponsors confirm their availability.
Over the past 26 years thousands of students have benefited from the ECOMAN program. See what some of them and their teachers had to say about their experience here.